On my Premis, what should I do if my bolt jam occurs frequently, batteries need to be replaced often or the motor sound slow? Test the lock/unlock with the door open and closed. If the issue only occurs when the door is closed, check on the following causes:
1. Door prep – ensure proper strike hole depth in the door frame.
- Adjust tab on lower strike to center deadbolt head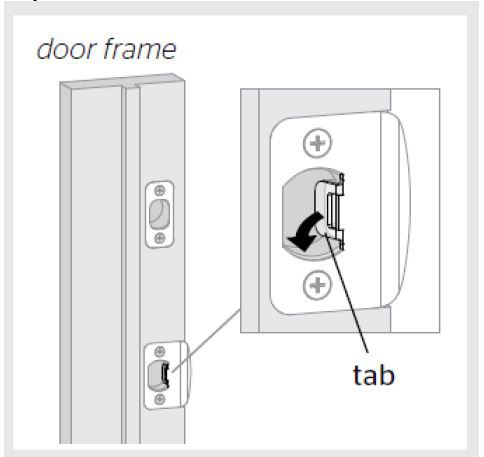 - Ensure deadbolt strike is at least 1" deep on frame of door
- Check that door thickness is supported - 1-3/8" to 1-3/4
2. Do you need to push or pull the door to lock the deadbolt manually?
3. Weather stripping –check that weather stripping is not impending the door alignment and adjust if necessary
4. Battery corrosion – Check and replace batteries when necessary to avoid corrosion
5. Overtightened bolts - Remove interior trim and subassembly, loosen thru bolts, reinstall without overtightening the bolts
Refer to "Warped Door" guide to make the necessary adjustments to properly align the door.