Welcome to our in-house testing lab.
Kwikset hardware is tested using rigid criteria to meet or exceed requirements set by BHMA – the sole organization accredited by ANSI to develop and maintain performance standards for residential hardware. We perform additional testing for our electronic locks to ensure that all of our products are safe, reliable, and long-lasting.
Strength & Security
Durability
Finish
Electronics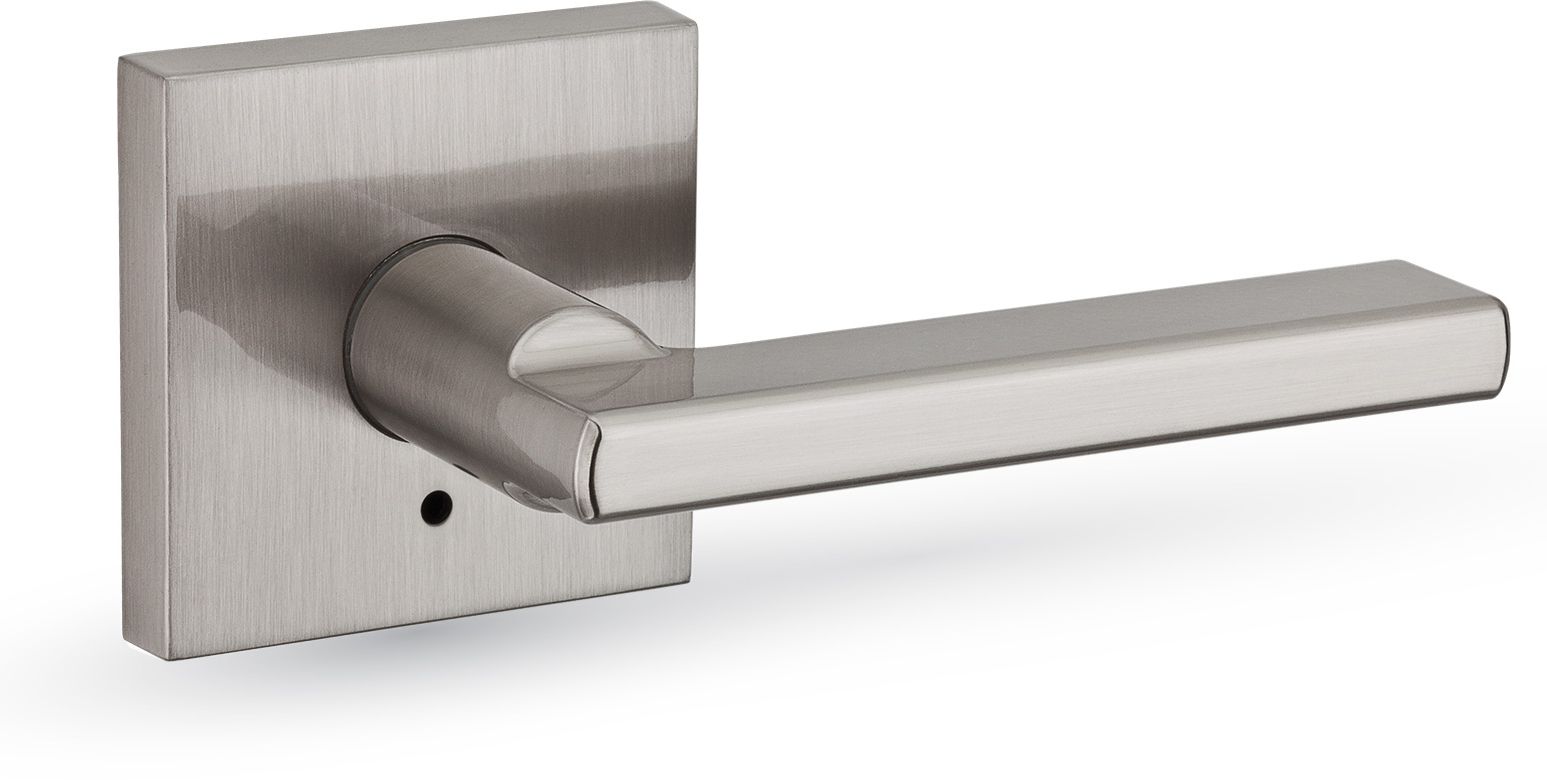 1
Strength & Security
Kwikset locks and deadbolts are evaluated for their ability to withstand impact. We test our products to determine if they are capable of enduring excessive force – from a possible intruder, for example.
Kwikset hardware endures extreme physical force prior to reaching approval.
____ pounds of pressure
Operation tests measure how hardware operates when there's unwanted loading on the door. This can be caused by a tight door seal or by something heavy hanging on the door knob or lever.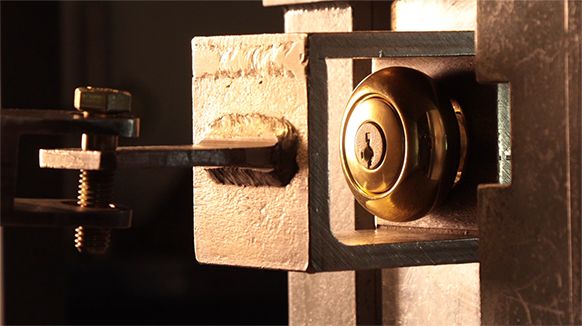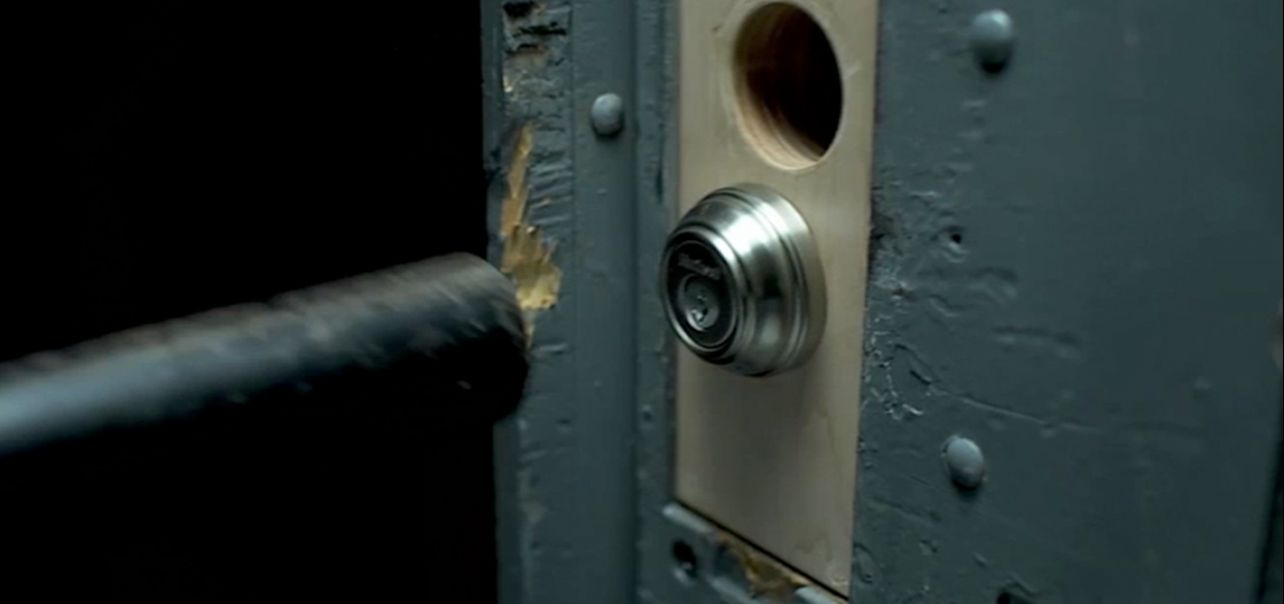 Battering RAM
A deadbolt with a BHMA "A" rating in Security is subjected to the Cylinder Vertical Impact Test. This test imitates a sledge hammer attack by hitting a locked cylinder 10 times consecutively with a 22-pound weight from a height of 40 inches.
2
Durability
Operation, cycling, and performance tests ensure that our hardware works properly with repeated use over time.
TESTING FOR REPEATED USE
We insert and turn keys over 250,000 times to test our Kwikset cylinders.
Long-Term Dependability
We test our knobs and levers by opening and closing them 1 million times.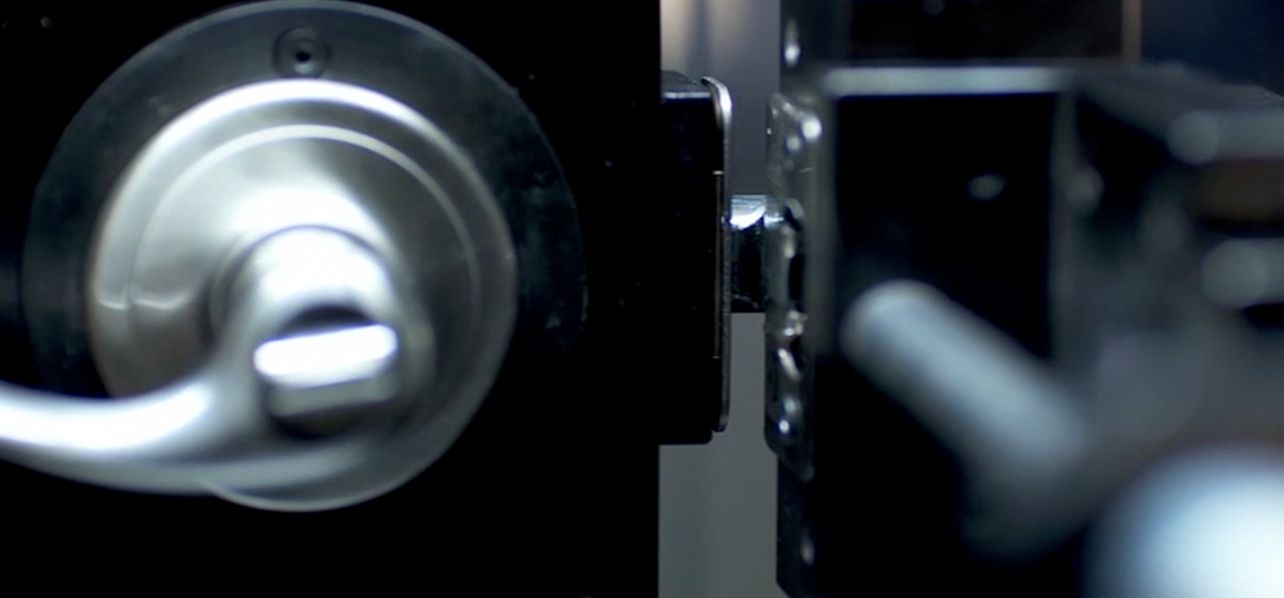 3
Finish
Kwikset locks are tested to make sure the coating of our products does not soften, bubble, peel, discolor, or corrode when exposed to certain elements and environmental conditions. We also determine ease of use when a door changes its fit in the frame due to fluctuating temperatures.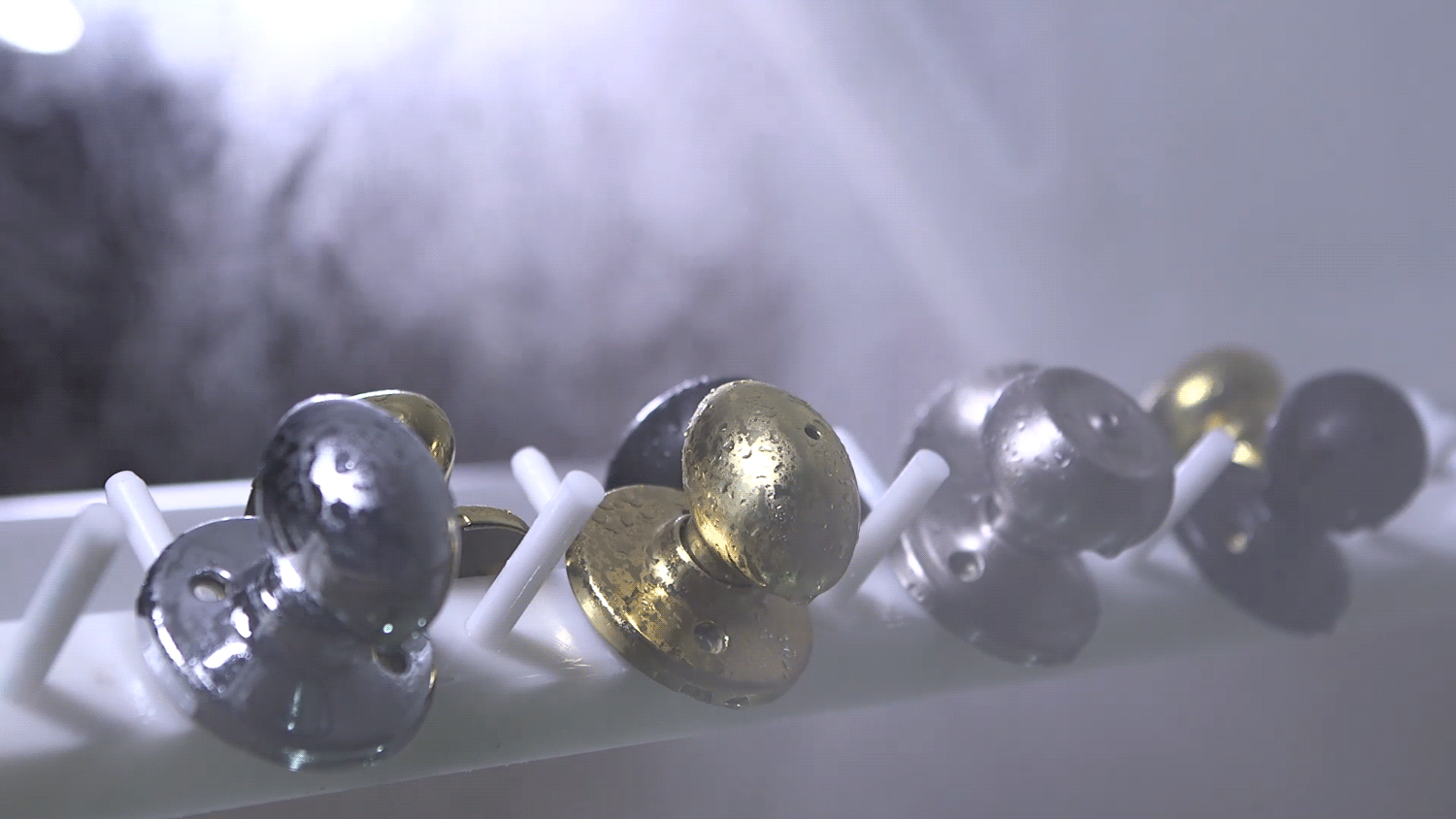 REsisting the elements
Weather testing is used to determine how well our products stand up to changes in temperature, humidity level, and precipitation types and amount.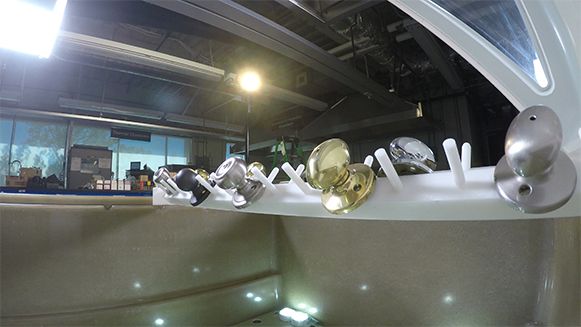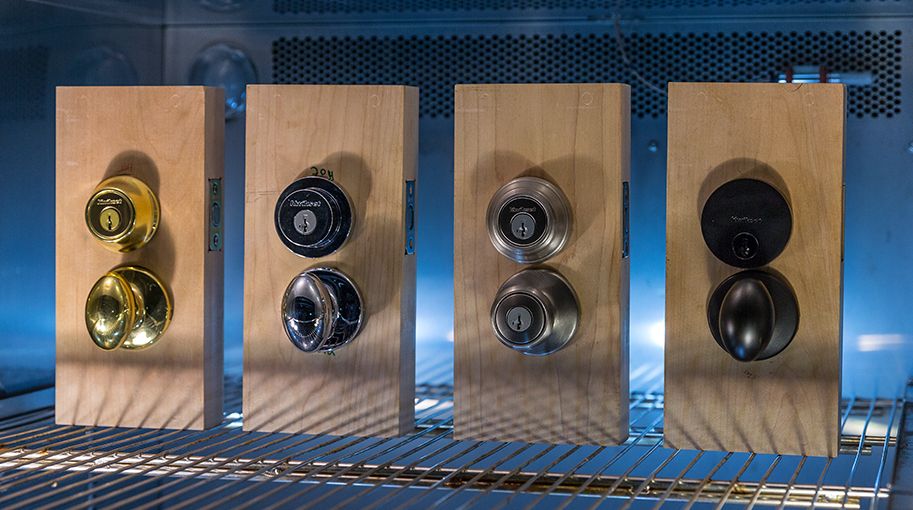 ultraviolet light testing
We account for potential damage caused by the sun and other light sources. All of our finishes are tested to make sure they can resist the effects of light on their appearance and functionality.
4
Electronics
Kwikset's engineers test for threats to electronics locks by experimenting with electric discharge, Wi-Fi signal isolation, and wireless signal testing. Our Bluetooth-enabled locks are evaluated for their ability to resist physical tampering, electrical interference, and cyber-attacks.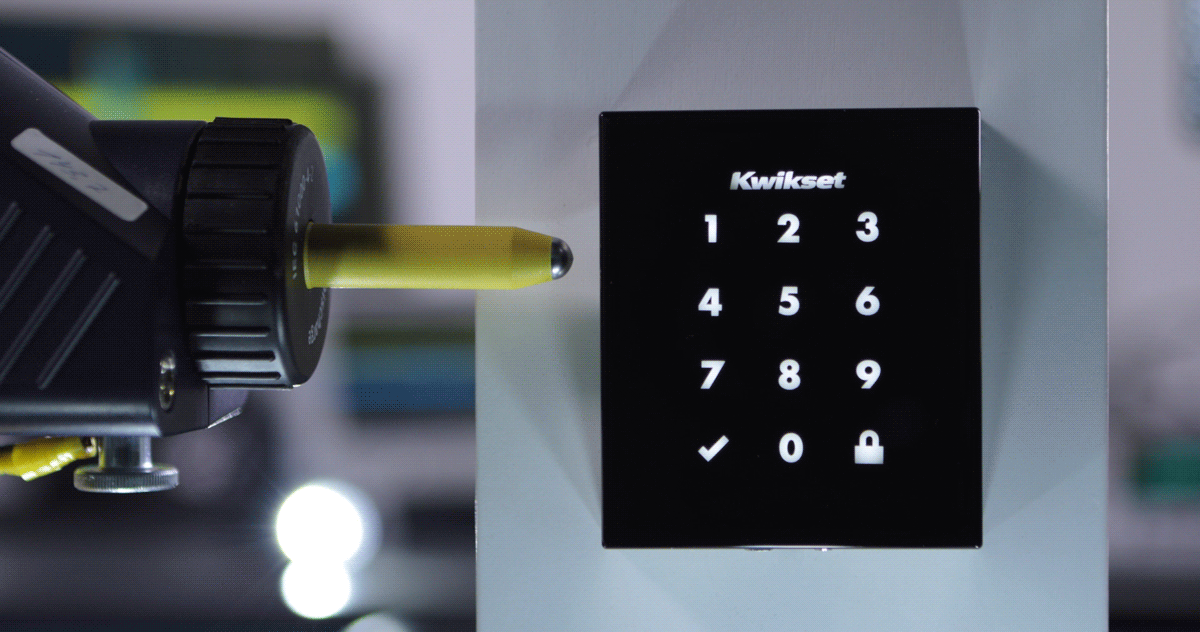 Electric discharge testing
During testing, our locks could withstand electric currents generated from a human body or metal objects with a built up static charge. This means Kwikset locks are robust, secure and immune to electronic attacks -- like stun guns, for example. Our testing simulates the current waveform generated in those conditions.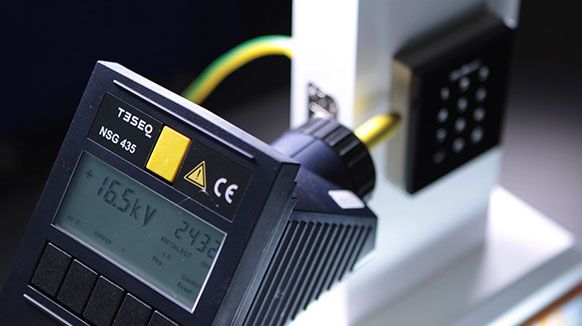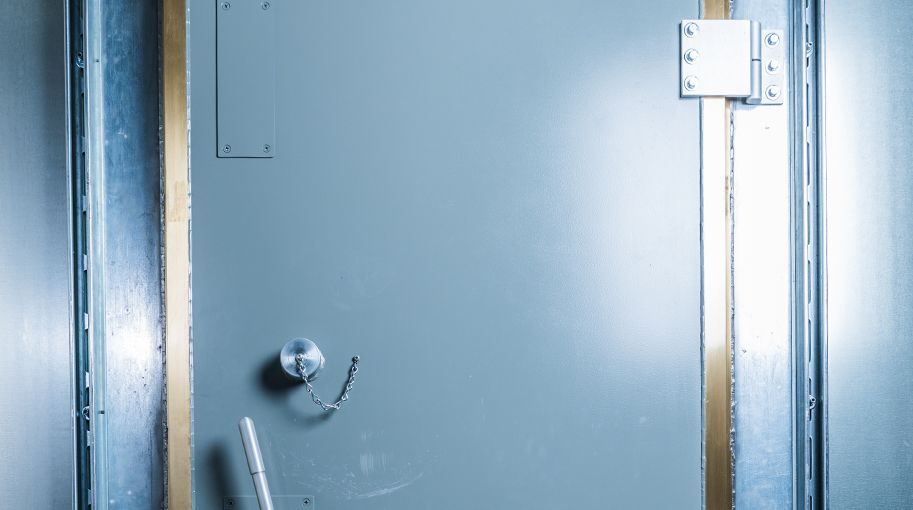 Wireless signal testing
A wireless network connection depends greatly on radio signal strength. We measure the path between a wireless access point and a connected device. To achieve maximum signal strength, our Kevo locks feature a convenient outside security benefit. This feature can detect how close you are standing to your door for enhanced security.
signal isolation testing
As part of our rigorous tests, we've made major strides in electronic security. This means cyber hacks and eavesdropping are next to impossible to pull off. You can trust that the connection between your Kwikset smart lock and your smartphone is highly secure.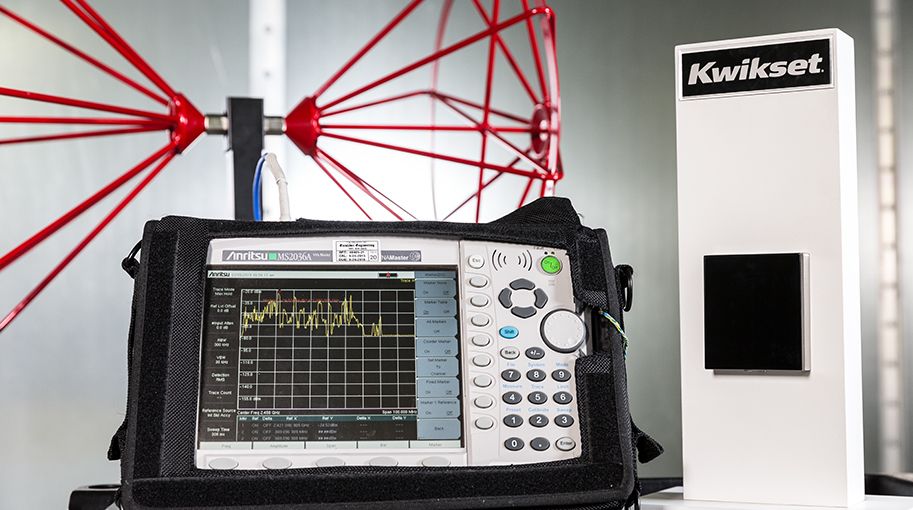 Ready to get started?
Superior security, style & convenience you can count on. With our wide variety of lock products, you'll always find the right fit for your home & life. Make it personal.