HOW TO ENTER?
1. FIND YOUR PRODUCT
Use the product categories or search box below to find your favorite Kwikset product.
2. WRITE YOUR REVIEW
Just click "Write a Review" and complete the form to be automatically entered. It's that easy!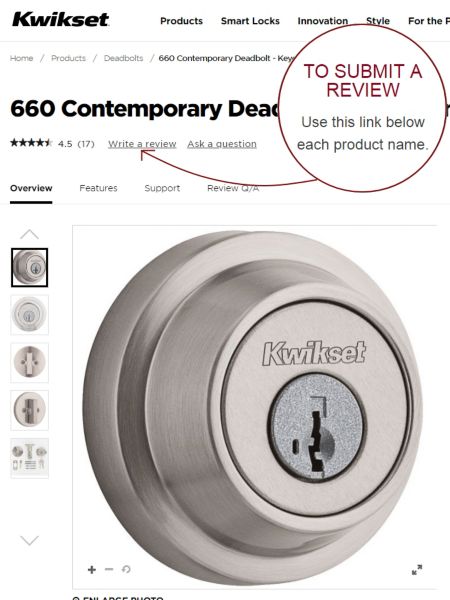 TIPS ON WRITING REVIEWS

BE REAL
Be Real Write about your own experience and explain why you liked or disliked the product. Be as accurate as possible, and include both the positive and negative aspects of your experience.

BE INFORMATIVE
Write about the specifics of the product you are reviewing; design, ease of use, ect. What makes the product unique.

BE RESTPECTFUL
Not every experience with a product is going to be perfect. We are happy to receive constructive criticism, it helps us make better products. Please refrain from using profanity, obscene comments or spiteful remarks.

AVOID
Email addresses, URLs, phone numbers, physical addresses or other forms of contact information. Advertisements, spam content, or references to other products, offers or web sites.