Obsidian Keyless Electronic Touchscreen Deadbolt
953 OBN 11P
Stylish. Modern. Secure.
This style-forward lock is the future of door hardware. Named after the volcanic rock, Obsidian is a visually striking touchscreen that eliminates traditional keyways and opts for a low profile, contemporary design to deliver a stylish, modern smart lock that is secure, innovative and convenient.
Pairs beautifully with Kwikset contemporary knobs and levers. Lever shown is the Montreal™ in Satin Nickel finish.
Cutting-edge design.
When designing Obsidian, Kwikset created the sleekest smart lock available. Obsidian's style-forward design seamlessly blends with any home's decor and offers key-free convenience with its capacitive touchscreen.
Engineered for Security.
ANSI/BHMA Grading and end-to-end encryption are just two examples of the mechanical and digital security built into Premis. Explore all the safety and security features that were made for the world you live in.
See how SecureScreen™ keeps you safe.
SecureScreen™ provides additional security by employing random digits prior to entering your personal code to prevent fingerprint and code detection on the touchscreen surface.
See how it works! Activate SecureScreen™ by clicking on the touchscreen.
SecureScreen™ displays two random numbers. Touch in any order to continue.
The full screen is now revealed. Enter the code to unlock: 1-3-5-7
The door is now unlocked! To start over, touch the lock button to lock the door.
Wrong code. Enter the access code to unlock: 1-3-5-7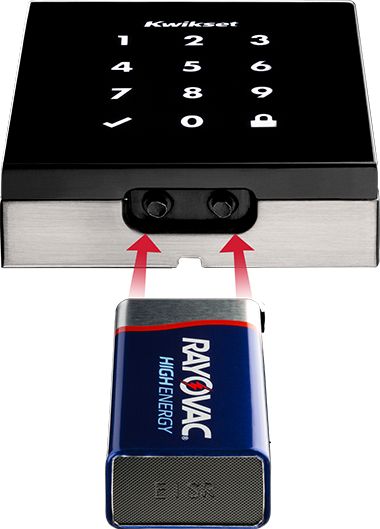 You've got a backup power source.
Obsidian features 9V terminals at the bottom of the deadbolt exterior that act as a backup power source in case the batteries run out. Use the 9V battery to quickly power the touchscreen by simply touching the battery prongs to the terminals.
Features
Sleek, low-profile design with a glass-like surface
Keyless Convenience - Enter your home with user codes instead of having to carry keys
One-Touch Locking Dedicated button to easily lock your door
Advanced Touchscreen is ultra-responsive to touch for instant screen display and fast usercode entry
SecureScreen™ Patented technology to help prevent code detection from fingerprints on the touchscreen
Up to 16 customizable user codes for increased security
Mastercode provides improved user access code management
Alarm sounds after 3 incorrect codes are consecutively entered and the screen temporarily locks out
Keywayless entry - no more keys to hide and no keyway to pick or bump
Tamper-resistant interior cover prevents unauthorized access to programming buttons
Audible beep and visual flash when batteries are low
Use a 9V battery as backup power in case the batteries run out
Support
Documents
Note: Do not use prints from this website to mark distances. Due to individual printers, dimensions on installation instructions may not print at an accurate scale.