Note: Beeping will not be heard if the lock's sound is muted.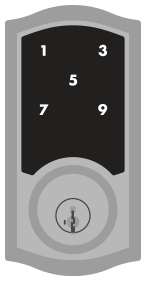 X-pattern
Flashes 1 time with 1 beep

Incorrect user code entered.

Flashes 3 times with 3 beeps

No user codes programmed.
Programming timeout after 20 seconds.
Unsuccessful programming.

Flashes 15 times with 15 beeps

3 incorrect codes entered within 1 minute (you may re-enter code after 60 second touchscreen lockout).
Checkmark & Lock
Flashing simultaneously 5 times with long continuous beep

Low battery.

Alternate flashing 5 times with long continuous beep

Door jammed while attempting to lock.

Beeping only
Lock beeps continuously

Tamper alarm sounds when cable is disconnected. Remove the battery pack, reconnect the cable, and reinstall the battery pack.