Did you lock your doors?
There's an app for that.
Smart lock, meet smart phone. Kevo Plus remote access & monitoring in the palm of your hand. Upgrade for only $99.99. No monthly service fees.
Why Kevo Plus?
Respond to emergencies by giving a neighbor access to your home
Never wonder if your door is locked or unlocked
Let friends & guests into your home remotely
Know when home service providers enter & leave
Remotely secure doors left unlocked
FAQ's
What is Kevo Plus?

Kevo Plus is a new upgrade for your Kevo smart lock. It delivers remote access features so you can connect to your Kevo from anywhere where you have a working internet connection. It includes the Bluetooth® enabled Gateway and Kevo Plus remote service.

Where can I upgrade to Kevo Plus?

Simply log into your Kevo account on mykevo.com and upgrade your account to Kevo Plus. Once you upgrade we will ship you a Bluetooth® enabled Gateway that will allow you to connect your lock to Kevo Plus.

Is there a monthly service fee? No.

Kevo Plus does not require a monthly service fee, just a onetime start-up fee of $99.99. For details please review the Terms and Conditions

here

.

Can I remotely lock and unlock my Kevo smart lock?

With Kevo Plus you can remotely lock and unlock your Kevo smart lock from anywhere as long as you have a internet connection for your smart device or computer. Through Kevo's mobile app or the mykevo.com web portal you can see the door lock status remotely and if needed lock or unlock your door.

What is required for Kevo Plus?

Kevo smart lock and Bluetooth® enabled gateway that comes with your upgraded Kevo Plus account
Active internet service
Internet router with one available Ethernet port
Power

Do I need to have the Kevo smart lock for Kevo Plus to work?

Yes, you must have the Kevo smart lock. The Kevo Plus is an upgrade for existing Kevo smart lock and the Kevo smart lock must be purchased separately.

Click here

to purchase the Kevo smart lock now.
Upgrade Today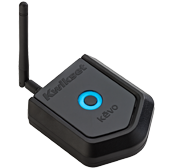 Upgrade to Kevo Plus Now
To use Kevo Plus, you'll need a Kevo Smart Lock. To get connected, you'll need an internet connection, Ethernet port, and wireless router.