The Premis App gives you control in the palm of your hand.
Manage user codes, track lock status, receive lock notifications and more through the Kwikset Premis app.

Using the Premis app
Enjoy the convenience of locking or unlocking your door with Siri® voice commands or tap the Premis app.
select a demo
See how SecureScreen™ keeps you safe.
SecureScreen technology provides additional security by employing random digits prior to entering your personal code to prevent fingerprint and code detection on the touchscreen surface.
See how it works! Activate SecureScreen™ by clicking on the touchscreen.
SecureScreen™ displays two random numbers. Touch both to continue.
The full screen is now revealed. Enter the code to unlock: 1-3-5-7
The door is now unlocked! To start over, touch the lock button to lock the door.
Wrong code. Enter the access code to unlock: 1-3-5-7
Kwikset Premis Compatibility
Remote capability
Apple HomePod®
For best results, the Premis lock should be within 40 feet of an Apple TV® (4th generation or later) with Apple TV® with tvOS 11 or later.
HomeKit™ requires iOS 11 or later on the following devices:
iPhone® 5S or newer
iPad® 4 or newer
iPad® Mini 2 or newer
iPod touch® 6th gen or newer
Control the access to your home.
Manage up to 30 customizable user codes and create a schedule that only allows entry into your home during certain times that you specify.
"Siri, is my door locked?"
Use Siri voice commands to check the status of your door lock. It's that easy, quick, and convenient.
Other Premis app features you'll love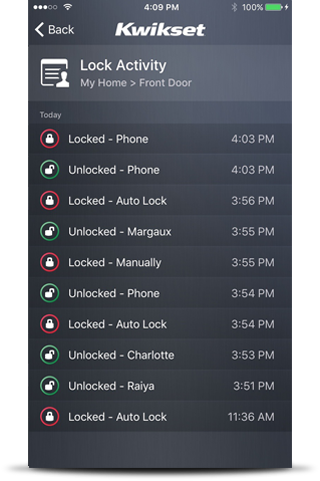 View Lock Activity
A complete log of your lock's activity with dates and times it was locked or unlocked, as well as how it was accessed (via phone, user code, or manually).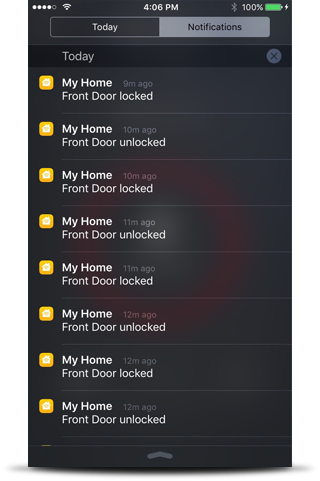 Lock Status Notifications
Get notified whenever a user code is used so you always know even when you're on-the-go!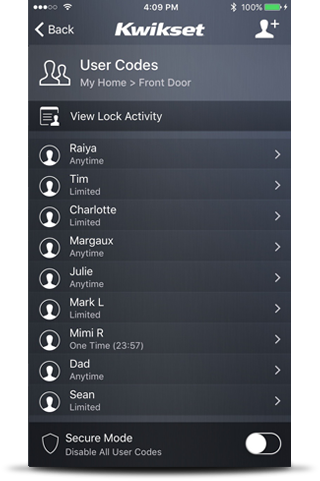 Secure Mode
Disable all user codes with a simple touch of a button. Perfect for when you're on vacation and need to prevent any access to your home.